Thank you for
registering.
Welcome to the MD Analytics Panel!
You have joined an exclusive group of Canadian healthcare professionals, who wish to participate in market research.
This is what you can expect as a member of our panel:
You will receive invitations by email to participate in market research studies that are relevant to your profession. (Please add support@mdanalytics.com to your safe sender list.)
The survey invitation will always clearly communicate to you the format of the study you are being invited to participate in, estimated length of the study, and the incentive amount.
As our studies often fill quickly, we urge you to participate as soon as you can.
We do our very best to ensure that the studies we send your way are pertinent to your practice. Keeping your profile up to date will help us better identify studies that are most relevant to you.
All studies that we conduct contain a set of screening questions at the beginning of the study. To learn more about why these are necessary, please read our post on the importance of screeners.
At any time, should you have questions or require support with a study, please contact us and one of our team members will help you.
We look forward to your participation.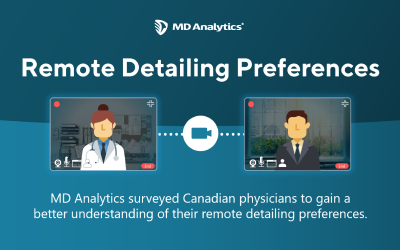 Our 5-minute online survey conducted in the fall of 2020 sought to gain clarity around remote detailing. This study was conducted with 339 Canadian physicians who are members of the MD Analytics healthcare panel and the results provide actionable recommendations on how to form a more 'ideal' pharma remote detail.
read more
We are here to answer your questions.